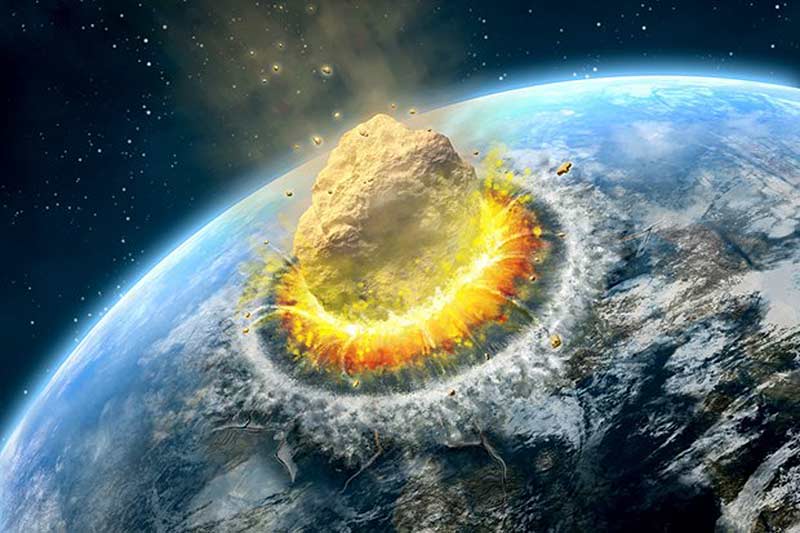 Eliatosha writes:
> Many greetings to you and your family, I and my students & my family we are well and they greet you very much.
>
> On Friday 01/10/2021 the students of Ilboru Primary School had a period about meteor show and they were very happy to listen to some podcast about meteor show which gave them more thirst to know more and the various pictures I downloaded on the internet that makes them to be very happy because they see meteor every day during the night.
>
> In addition to their curiosity, they had various questions:
>
> Joyce Peter asked:
>
> 1. Why do we see meteors at night but during the day we cannot see meteors, does it mean that the meteors are not present in our atmosphere during day time?.
Meteorites plummet through the atmosphere at all hours of the day and night. But by day we cannot see them in comparison to the bright light of the sun. This is similar to shining a torch by day, it is very difficult to see; but at night it is quite bright.
> 2. What are the objects made of meteors? what makes them looks like a fiery stone?
They are in fact fiery stone! Meteors are made of rock and dust. Comets too are made of dust, but with more water ice. They are the original building blocks of our solar system, left-overs from the very early time when gravity brought the dust of our solar system together to form small nuggets, clumps, asteroids, comets, and eventually planets and their moons (many of which are asteroids captured by the gravity of the planets).
Just as when you drive a car at high speed you can feel the wind pushing against the front glass, slowing the car, the air resists the movement of the meteor through friction. Friction produces heat. So much heat that the rock melts and glows. This is what we see.
Keep in mind that while a car moves as 100 or more kilometers per hour, meteors are traveling at tens of thousands of kilometers per hour.
> 3. What effect do meteors have on living organisms if they fall to the ground?
Most meteors are the size of a grain of sand and never touch the ground. They burn-up completely. Yes, a grain of sand so hot you can see it from far away! But the bigger meteors (size of a baseball or football or more) can reach the ground and impact.
We know that the dinosaurs were wiped out due to a massive meteor impact 65 million years ago. It would have caused a massive fire to spread across the planet, followed by years of dust that blocked the sun.
Article: https://news.harvard.edu/gazette/story/2021/02/new-theory-behind-asteroid-that-killed-the-dinosaurs/
Nearly all of the dinosaurs died out, leaving the birds we have today (yes, birds are the last remaining dinosaurs). With the dinosaurs gone, the mammals were allowed to diversify and prosper.
Much of the water on our planet arrived (and continues to arrive) through the impact of meteors (very little water) and comets (more water). If the meteorite is small, it only adds trace amounts of iron and other elements to our atmosphere, maybe to the ground if it impacts.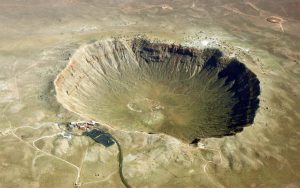 I have attached two images:
a) An artist painting of a meteor impact. If in fact one this large were to hit our planet, it would destroy the entire planet. (top)
b) A photograph of Meteor Crater, Arizona (just north of where I live) is a world-famous impact site of a meteor. It is famous because it is so well preserved. The rock that made this giant hole was only a few meters in diameter, but traveling at incredibly high speed.
Article: https://en.wikipedia.org/wiki/Meteor_Crater
While meteors enter our atmosphere every day, the most recent, note worthy impact was just a few years ago:
Article: https://en.wikipedia.org/wiki/Chelyabinsk_meteor
> Miriam John asked:
>
> 4. When a meteors falls to the ground it stays on the ground or there are objects that sink into the ground and why ?.
Upon impact it breaks into many small fragments. You can find these pieces if you know what you are looking for!
> Peter Elieta asked:
>
> 5. What are the benefits of meteors in the lives of humans or other living things?
They add iron, water, and excitement and joy to our lives. Without meteors, you would not be asking these great questions! 🙂 They also teach us about the formation of our solar system and planet, and have even given us samples of Mars. Yes, some of the rocks on this planet are from Mars. A long time ago, in the early formation of our solar system, there were far more asteroids moving between the planets. One or more of them struck Mars so hard that it sent debris into space, some of which arrived to Earth.
> 6. How big are meteors? And why do the burning particles not fall to the ground as the mineral contains what minerals?
(see above)
> 7. Why do meteor showers occur in December each year and not other months? What is the secret in that month?
There are many meteor showers, happening all year long. As the Earth is moving in its orbit, it passes through dust and debris fields, year after year, decade after decade, just as you might go to visit a certain relative for particular holidays 🙂 This debris is sometimes the tail of a comet or the remnants of an asteroid.
Here is a full explanation and list:
https://en.wikipedia.org/wiki/Meteor_shower
> 8. Belinda Allen asked:
>
> What is the significance of meteorites in our world?
(see above)
> 9. We hear in various news that a meteor is about to hit our planet? Did it not burn itself out of the way to the earth? Where did it threaten ?.
Astronomers are tracking tens of thousands of "near Earth objects", asteroids and comets that are considered close to our planet in their orbit. Some come by each year, some only once every dozen or even hundred years. By carefully tracking them in space (using telescopes and a kind of radar) we can determine their orbital path and predict if they will hit the Earth.
Article: https://en.wikipedia.org/wiki/Near-Earth_object
There are a few we are concerned about, and so defense systems are being designed to push them just a bit (using rockets or lasers), thus changing their orbit to miss the Earth.
> With these few questions we would like to express our sincere gratitude for the great help you are giving us in collaboration with our teacher in building our capacity to know our atmosphere as well as the various objects in the sky.
>
> We are looking forward to hear different views and answers from you.
Cheers,
kai