Macho Angani – Eyes at the Sky by Ingo Koll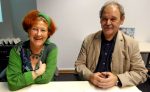 Ingo has been producing a weekly radio programme on astronomy in the Swahili language since mid 2020. It is broadcast by 4 radio stations in Dar es Salaam, Moshi, Arusha, Tanga, Morogoro and some places in between. "Macho Angani" was inspired by a German version of "Stardate" podcast by McDonald-Observatory's weekly radio program.
Listen to Ingo's engaging, informative podcasts!
Ingo has been editing the Swahili Wikipedia for some 16 years and written most of the astronomy related content. So far they have 340 astronomy articles which generated 800 daily views so far. They had worked through the articles in a Wikimedia sponsored workshop in cooperation with ASSAT (Astronomy and Space Science Association of Tanzania) and University of Dar es Salaam (Institute of Swahili Research TUKI-TATAKI).

Universe Awareness
UNAWE's vision is to use the beauty and grandeur of the Universe to inspire young children and encourage them to develop an interest in science and technology. The programme also aims to introduce children to the idea of global citizenship and tolerance at a crucial stage of their development – to show them that they are part of an international community.
To learn more, visit www.unawe.org

IAU Office of Astronomy for Development
The Office of Astronomy for Development (OAD) is a joint project of the International Astronomical Union (IAU) and the South African National Research Foundation (NRF) with the support of the Department of Science and Technology (DST). The mission is to further the use of astronomy as a tool for development by mobilizing the human and financial resources necessary to realize the field's scientific, technological and cultural benefits to society. This is primarily implemented through funding and coordinating projects that use Astronomy as a tool to address issues related to sustainable development. Since 2013, more than 140 projects have been funded through the annual Call for Proposals.
The OAD offers a resources pages rich in content and unique sources at www.astro4dev.org/resources/

NASA Wavelength
NASA leads the nation on a great journey of discovery, seeking new knowledge and understanding of our planet Earth, our Sun and solar system, and the universe out to its farthest reaches and back to its earliest moments of existence. NASA's Science Mission Directorate (SMD) and the nation's science community use space observatories to conduct scientific studies of the Earth from space to visit and return samples from other bodies in the solar system, and to peer out into our Galaxy and beyond. NASA's science program seeks answers to profound questions that touch us all:
How and why are Earth's climate and the environment changing?
How and why does the Sun vary and affect Earth and the rest of the solar system?
How do planets and life originate?
How does the universe work, and what are its origin and destiny?
Are we alone?
To learn more, visit nasawavelength.org
NASA At Home
Looking for space and science activities you can do with NASA at home? Here, you can find instructions for making things like rockets, Mars rovers and Moon landers out of materials you have at home – or with templates you can print out.
To learn more, visit www.nasa.gov/specials/nasaathome/
NASA Learning About Space
Activities for teachers and students, in the classroom together or at home. Topics include Humans in Space, Moon to Mars, Space Tech, Flight, Solar System and Beyond, STEM Engagement, and History with hundreds of topics in these categories.
To learn more, visit www.jpl.nasa.gov/edu/learning-space/
NASA's STEM Education for all grades!
Let NASA bring the universe into your home! This site provides a wealth of activities and education for the whole family, including e-books, pod casts, videos, activities and much more.
To learn more, visit www.nasa.gov/stem

National Geographic Resource Library
This powerful, on-line resource provides more than 4000 freely available on-line resources, including interactive, educational web-based Activities, Articles, Collections, Infographics, Lessons, Maps, Photographs, educational Units, and Videos. Subjects include: Geography, Earth Science, Biology, Social Studies, Arts and Music, Anthropology, Conservation, Engineering, Experiential Learning, English Language Arts, Storytelling, Physics, Mathematics, Religion, Chemistry, and Professional Learning. All content is also organized by intended grade level.
To learn more, visit www.nationalgeographic.org/education/resource-library/

Astro Edu
AstroEDU makes the best science activities, particularly those with an astronomical, earth or space science focus, accessible to educators around the world. All materials are open-access platform for peer-reviewed science education activities. AstroEDU is a platform for educators to discover, review, distribute, improve, and remix educational activities.
To learn more, visit astroedu.iau.org

Galileo Teacher Training Program
The GTTP goal is to create a worldwide network of Galileo Ambassadors and Galileo Teachers. These Ambassadors train Teachers in the effective use and transfer of astronomy education tools and resources into classroom science curricula. The Galileo Teachers are equipped to train other teachers in these methodologies, leveraging the work begun during IYA2009 in classrooms everywhere. Through workshops, online training tools and basic education kits, the products and techniques developed by this programme can be adapted to reach locations with few resources of their own, as well as computer-connected areas that can take advantage of access to robotic optical and radio telescopes, webcams, astronomy exercises, cross-disciplinary resources, image processing and digital universes (web and desktop planetariums).
Expand GTTP Network of Galileo Teachers and Ambassadors.
Create a network of Galileo Schools in over 100 countries by 2015.
An active social media hub for Galileo Teachers.
A resource repository adapted to different needs.
To learn more, visit galileoteachers.org

Space Awareness
Inspiring a new generation of space explorers, Space Awareness maintains 30 partners across Europe, Africa and Asia, providing freely available, high quality tools to inspire and engage young people in science. Included are space educational resources, stories about space and careers, webinars, interviews, and more.
Stimulate the next generation of space-oriented scientists
Broaden children's minds, develop a sense of European and global citizenship and foster understanding for diverse culture.
Build long-term partnerships between people from different cultural backgrounds and countries inside and outside Europe.
Help build the scientific and technological capacity of developing countries.
To learn more, visit www.space-awareness.org

Astronomers Without Borders
Astronomers Without Borders (AWB) is dedicated to fostering understanding and goodwill across national and cultural boundaries by creating relationships through the universal appeal of astronomy. AWB projects promote sharing resources, knowledge, and inspiration through a common interest in something basic and universal—sharing the sky.
To learn more, visit www.astronomerswithoutborders.org

International Dark-Sky Association
The International Dark-Sky Association (IDA) is the recognized authority on light pollution and is the leading organization combating light pollution worldwide. IDA's mission is to preserve and protect the nighttime environment and our heritage of dark skies through environmentally responsible outdoor lighting.
Advocate for the protection of the night sky
Educate the public and policymakers about night sky conservation
Promote environmentally responsible outdoor lighting
Empower the public with the tools and resources to help bring back the night
To learn more, visit www.darksky.org

Free textbooks and workbooks for physics
This freely available collection of more than 30 text books, hand books, resources and guides is made available by F. James Rutherford, curator of the Project Physics Collection. The materials in the collection were created at Harvard University under the leadership of Rutherford, Gerald Holton, and Fletcher W. Watson.
To learn more, visit archive.org/details/projectphysicscollection

The Messier objects
F. James Rutherford is curator of the Project Physics Collection. The materials in the collection were created at Harvard University under the leadership of Rutherford, Gerald Holton, and Fletcher W. Watson.
To learn more, visit en.wikipedia.org/wiki/Messier_object