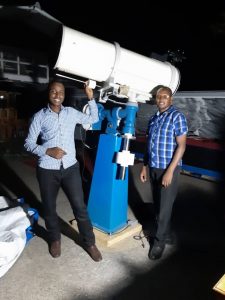 Born of Astronomers Without Borders and Telescopes to Tanzania, the Mt. Meru Astronomical Observatory (MMAO) is operated by the Organization for Science, Education, and Observatory (OSEO). It is located at the foot of 4,500 meter (15,000 foot) Mt. Meru, adjacent to the renowned Arusha National Park, Tanzania.
MMAO provides hands-on science education, inspiration to Tanzanian youth, and the magic of dark night skies. The observatory features a fully refurbished, permanent mount, 12″ Cave-Cassegrain telescope and several portable reflector and refractor telescopes, and a growing library of books and periodicals and educational curriculum.

We welcome visitors from nearby schools, across Tanzania, and from around the world. So if you are visiting Tanzania for the first time, or live just next door, please contact us.