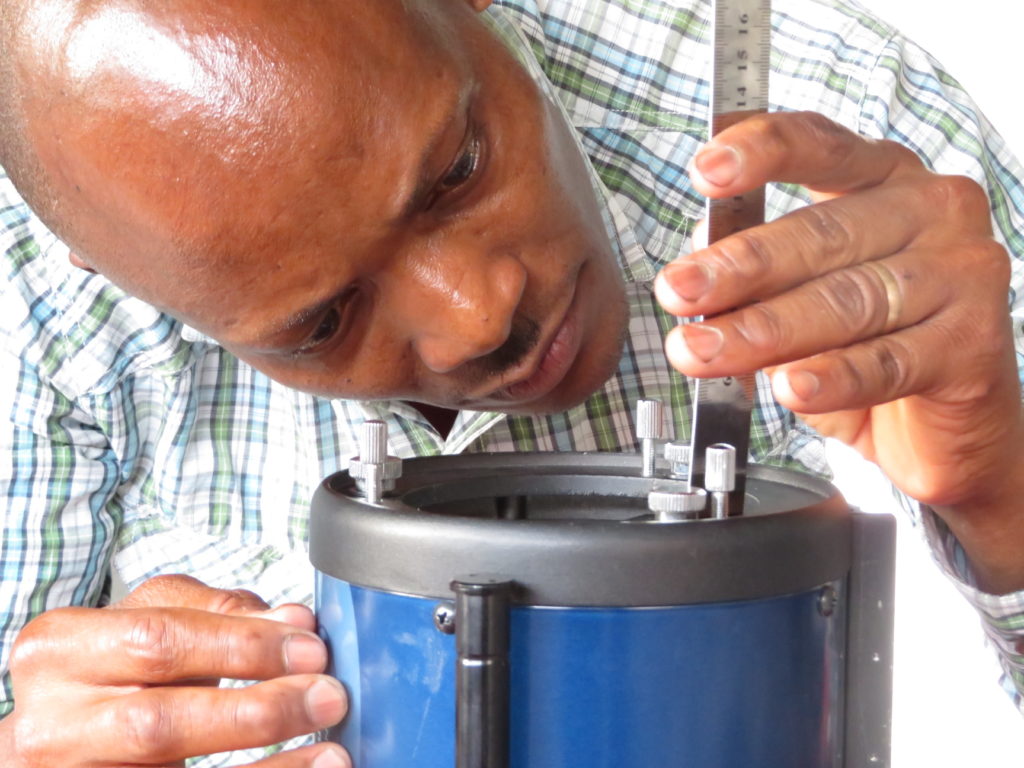 Yesterday was a whirlwind, go-go-go attempt to cross off as many final items from our TODO list.
We returned to the issue of "play" in the RA arm and axis of rotation, reducing it considerably with a tighter configuration of the friction clutch and application of nuts on the back of the rear plate. We yet need to return to the front plate and insert brass bushings, but this will require a proper mill and press, and more time. We will engage the Arusha Technical University for this endeavor later this year, perhaps when I return.
Zacharia and Elineema fabricated pointers for both the Dec and RA setting circles, mounting them using existing tapped holes while Eliatosha and I rebuilt his Celestron-AWB 'One Sky' 5″ reflector (the same model as the one I worked on a few days ago). We fully disassembled the entire instrument, cleaned it top to bottom and reassembled. We then tested and selected the two best eyepieces, a 25mm and 12mm Celestron. The end result brings this telescope nearly back to factory quality, only a few permanent, light mineral stains on the mirror without resolve.
I completed my review of all the eyepieces, packaging them for storage at the OSEO office as we simply do not need two dozen eyepieces at the observatory. Now, each telescope has color coded (using electrical tape) eyepieces and an associated tripod mount. We have six telescopes in all, the 12″ Cave-Cassegrain, Celestron-AWB 5″ telescoping reflector, 3″ Celestron spotting scope, a 2.5″ Meade refractor, and two small Galileo refractors which we have decided are best used without a tripod, just by hand for first time explorers of the night sky.
I was excited to find in one of the boxes a solar filter which I taped to the inside of a light reduction cover for the Celestron spotting scope. Now we have the ability to safely view the sun using our second highest quality telescope. It works beautifully!
We observed for roughly two hours, in and out of cloud cover and conducted our first "drift" test. Our setting circles were calibrated for the first time and they are spot-on. We can use the circles to bring the telescope to within the field of view of our spotting scope using, which is about all you can ask of these devices without an optical encoder and computer control. We are proud of our effort and know we have done well. With limited tools and our creativity for in-house fabrication, we have done fantastic, high-quality work.
I am proud of us all!