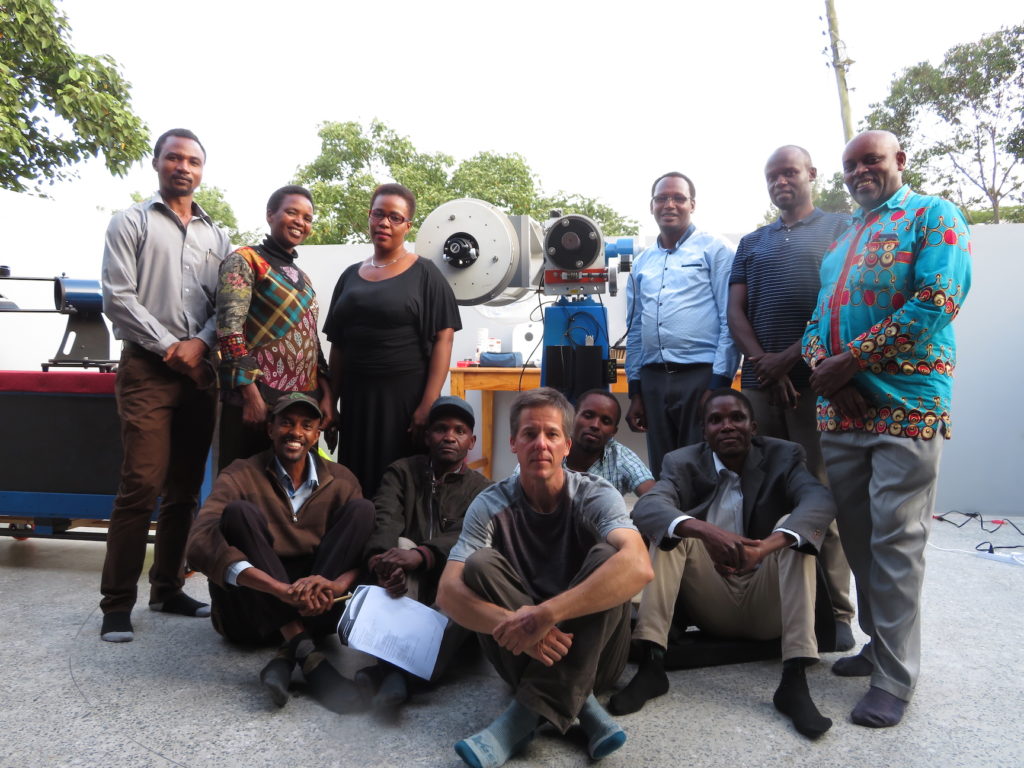 Today was a big day, from sunrise to sunset. Eliona arrived to my lodge a bit past 7:00 am to engage in a review of the agenda for the ambassador meeting. We printed copies here at the lodge, and by 9:00 am were knee deep sifting through a half dozen suit cases in the OSEO office, the accumulation of years of donations to science education.
For me, it was the first time to witness the incredible array of chemistry, biology, physics, and astronomy material that had been brought to this school, most of it untouched for quite some time, if ever. We focused on astronomy, bringing two dozen books to the new observatory library, eye pieces for our growing collection, and telescopes and tripods for testing, mending, and eventual use.
I know how much Chuck wanted for each and every one of these items to be used. He can smile in his ethereal state, knowing it is finally happening.
At 11:30 am Thomas and I went to town to purchase 10 plastic chairs, juice, and biscuits for the Astronomy Ambassadors seminar, and a few office related things. We raced back up the mountain to the observatory just as the first Ambassadors were arriving a few minutes past 1 pm.
The seminar went very well, the observatory the perfect building in which to house such a meeting. It will be impossible to retell all that we discussed and learned, but in general, the agenda was as follows:
1) General introduction to all in the room by Elineema and Eliona, and a moment of prayer to honor Chuck.
2) Introduction to Astronomy education by Kai.
3) Watch a short film about the SALT education program in South Africa, and discuss.
4) Watch the first 10 minutes of Episode 1 of the new COSMOS series, and discuss.
5) Introduction to the telescope, with discussion of refractor vs reflector, Dobsonian, Newtonian, and Cassegrain, and the three axis for equatorial mounts. We then engaged in a hands-on effort using spotting scopes and moving the 12″ on its equatorial mount.
6) We closed with questions and answers and a continued discussion about science education in the classroom.
To this final point, much of the afternoon (2-5:30 pm) was spent not on astronomy, but the challenges of education. I opened by stating that the hardest part of science education is for the teachers themselves to change how they engage the students. They must encourage and support the students asking questions they themselves cannot answer. They must celebrate every time a students raises their hand and baffles the instructor. This totally flips two centuries of colonial classrooms on their heads. Yet, it must happen for the next generation to rise up and do better than the one before.
These teachers are so strictly guided by the national examination review that they feel totally restricted by what is demanded. They have no time to be creative in the classroom, to do anything outside of the norm. Not a one of them has internet or a computer. Some of the schools have no computers at all. Lessons are recorded by hand, filling volumes of books with writing and sketches to copy what is in the shared text books or written on the board.
This is where Elineema stepped in and encouraged each of them to see their job in the classroom as extended by time with the students after class, teaching in a new way through engagement and interaction and collaborative learning.
I asked the question, "Would you rather have students ask questions that you can answer, or questions you have to answer together?" and "Which one of these is a sign of your success?"
Zacharia added a beautiful segment to support this, given what I had shared but more importantly, what he has experienced in the classroom too. He recognized the challenge that lay before them, but emphasized that we can make a change. Elineema provide a passionate plea for the ambassadors to return to their schools and take a new, personal approach to science education.
In my follow-up conversation with Mponda this evening, he said all classes much be taught as science classes, all subjects are a chance to explore and learn beyond the textbook, beyond the blackboard, notebook, and memorization. But without the internet, this is nearly impossible.
In closing, I shared a story I heard on NPR before coming here, that success in college entrance exams has almost no bearing on the success of an individual. In fact, successful entrepreneurs often did poorly on tests, entrance exams, and in traditional classrooms. I asked those present to take special care, to find alternatives for those students who struggle with the norm, for they are likely to become Tanzania's leaders. Don't punish them for not conforming to the rules, but help them to learn how they learn and then catapult forward.
The feedback for the day was positive across the board. These instructors had all met and worked with Chuck, Sue, and Mponda many years before, and had been waiting for this moment, for this reunion for as many as a half dozen years. Finally, we came together under the roll-off roof, in the company of a newly assembled library, new chairs, a 32″ TV, laptops, workstations of the likes they have never seen, and telescopes of several shapes and sizes.
For those that could stay, we enjoyed a brief view of the night sky over East Africa and together, we took our first step together toward a better Tanzania.