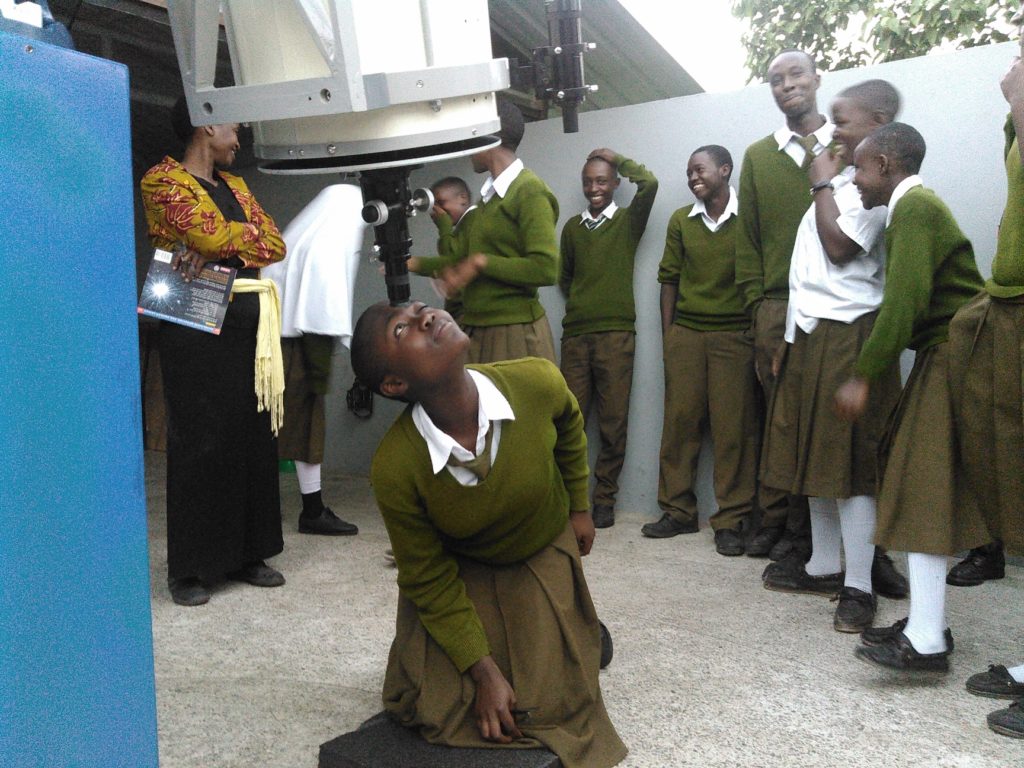 Last night Mr. Miley and his Form Four class of the Ngongongare Secondary School visited the observatory.
Following Miley's introduction the observatory and the use of a telescope, I provided a lecture for the 3 axes of the equatorial telescope and the function of the concave and convex mirrors in our primary telescope. I asked the students to calculate the rotational velocity of the Earth, given its circumference and then we moved into conversations about why we cannot feel the Earth spinning as compared to that of, say, riding on a bus or airplane.
We spent some time discussing kinetic energy (the students were well versed in this given their physics class) and how a small object traveling a hit speed can cause as large an impact crater as a large object traveling at a lower speed. I provided some experiments they can perform at the school using thick mud and rocks or a cake pan, flour, and small objects flung at various velocities.
We welcomed the presence of Mr. Marike, a member of the Board of Directors for the Organization for Science, Education, and Observation (OSEO) that is responsible for the management of this observatory. Karibu sana!
An hour before sunset, we observed the waxing crescent Moon. Later, some students from Ailang arrived and we tested our CCD camera again, this time with the RA motor spinning in the correct direction (it has been set to the Northern hemisphere, but was easily rectified with the movement of a jumper on the motherboard –thank you Alan!). We observed Jupiter and Saturn, both through a 40mm eyepiece and the computer screen. Stunning!