The Astronomer Advisors are professional and experienced, amateur astronomers who work with OSEO and MMAO to guide the development of the observatory and its educational curriculum. Key is the provision of quality instrumentation coupled with a long-range vision for how a unique, East African observatory can participate in the growing network of academic observatories worldwide, to be learn from and contribute to the total body of knowledge about our cosmos.
Kai Staats, MSc
Kai is a researcher, filmmaker, writer, and amateur astronomer who has since 2016 lead the development of the Mt. Meru Astronomical Observatory. Kai was inspired by and continues to work in the memory of Chuck Ruehle to bring the magic and mystery of dark night skies to learners everywhere. Kai is an active researcher at LIGO, works with the South African Astronomical Observatory (where he spent the better part of two years while working on his MSc), and is actively engaged in the space sciences in a number of fields.
Kai holds a Masters in Applied Mathematics from the University of Capetown, his research in the application of evolutionary computation to noise mitigation in radio astronomy. He is the lead Astronomy Advisor for MMAO.
Learn more about Kai …

Dan Heim
Dan Heim is a retired secondary school physics instructor, life-long amateur astronomer, professional editor and producer of educational multimedia and publications for science and mathematics.
Dan was instrumental in refurbishing the principal telescope for MMAO and continues to be involved in the organization, guiding the on-going training of the ambassadors and provision of high quality educational material for visitors to the observatory.
Learn more about Dan …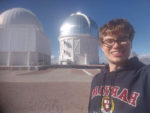 Michael Coughlin, PhD
Michael is a David and Ellen Lee Prize Postdoctoral Fellow at Caltech. His current research integrates the detection of gravitational wave events with electromagnetic counterparts and follow-ups to binary neutron star and neutron star / black hole mergers. He is a lead for the worldwide, GROWTH collaboration of professional observatories.
While MMAO is not a research facility, we would like to incorporate some research processes in order that the learners have a sense of how professional astronomers engage images as data. Michael comes to MMAO with experience in software integration for automation of observations.
Learn more about Michael …